Cuisine Costa Del Sol and Nerja
Cuisine Costa Del Sol and Nerja:
The cuisine nerja and the costa Del Sol I would argue is the best and most varied in the world. Fish and sea food dishes along with popular paella.
There is a  diverseness of cultures that reside here, coupled with the high volume of tourism. This therefore means that you can expect to find any style or nationality of cuisine. Fresh Fish sea food paella are served up daily in all the many resort restaurants on the costa Del Sol.
Gambas Pil Pil: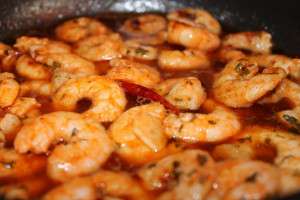 Gambas pill pill is my favorite dish and there are many different recipe's for gambas pil pil. My own personal menu adds Passata Tomatoes. According to my many friends and guests it is the best they have ever tasted…. A truly Delicious gastronomic delight.
It is unsure where in Spain the gambas pil pil recipe has originated from. Both the Basque County and Andalucia take credit for it.
You should always serve Gambas Pil Pil whilst hot, with the sauce still sizzling. Consequently this sometimes burns your tongue when you take your first mouthful.  Its smell is so powerful that you can't resist taking a bite whilst it is still hot.
This gambas pil pil recipe can be served as tapas, or as an appetizer which you can make whilst your guests are at the table. The prawns pil pil recipe takes less than 10 minutes to make!
Fresh fish sea food paella popular Cuisine Costa Del Sol:
Furthermore if you are on holiday on the Mediterranean expect to savor fresh fish, a gastronomic delight. Fish caught that day, combined with fresh ingredients from the 'campo' (countryside).
Above all no matter what resort  you are in, the Cuisine Costa Del Sol  is always full of character and flavor.  Rich meat stews, quirky platters of fried fish and teasing tapas.