Our Top 10 Tapas Bars in Nerja
Lots of bars and restaurants in Nerja provide free tapas when you buy a drink. Nerja´s tapas bars can be found everywhere in this resort. Free tapas is not common in Spain but in the jewel of the costa Del Sol, Nerja it is. In this post we will highlight the 10 Tapas bars that we prefer.
What is a tapa?
A Tapa in Spain is an aperitif (snack) that is served in a bar or restaurant accompanying the drink (alcoholic or not). Tapas bars are typical Andalusian bars. Tapas in Spanish means caps or lids. These (caps lids) were, used, to cover drinks, to prevent flies getting into them.
Each time you order a glass of wine, beer or soft drink this drink will be accompanied by a free tapa. There are tapas bars and bars that have tapas areas with stools, high tables or barrels. Most tapas bars only serve free tapas when you are seated on these at the bar.
Tapas bars are an integral part of the Andalusian culture.
Tapas bars are an integral part of the Andalusian culture. The perfect place for a little break. Whether a resident, visitor or on vacation you need to visit Nerja´s tapas bars to get a feel for the local culture
In this post, I would like to introduce you to what we consider to be JJ Nerja Rentals top 10 tapas bars in this lovely town of Nerja . In addition to my list, Nerja has, of course, many more great tapas bars, which are worth a visit. These are our personal favourites where we regularly drop by for a cold beer or wine and delicious tapas.
Directions to all tapas bars in Nerja
Enoy your free tapas every night stay locally in Nerja
1 bedroom and all rental properties in Nerja
3 bedroom rental properties Nerja
4 and 5 bedroom rental properties in Nerja
El Pulguilla one of our favorite tapas bars in Nerja
El Pulgilla is definitely one of our favourite tapa bars. For anyone who likes fish and seafood it is a must. On the other hand, the filletios and chorizo are equally delicious . This Tapas Bar is located in the center of the old town and is a popular meeting point in Nerja for locals. Despite its simplicity, the Tapas Bar is very popular and well-attended at a late hour. At El Pulgilla you get a decent portion of seafood or fish with your drink and is absolutely worth the money. However if you go through into the rear of the premises there is a large restaurant and terrace, Here you will be served with delicios food (Comida) where and very reasonably priced
La Taberna de Pepe Moles
"La Taberna de Pepe Moles" is a small tapas bar but quite exclusive, we describe it as a posh tapas bar. The owner is pepe and he always makes you feel most welcome. It is also a good bar restaurant. Although Pepe only offers its customers a small selection of tapas, these are well selected and of good quality. Especially the Spanish wine, the Serrano ham, and the homemade croquettes are recommended. We always like to give Pepe moles a visit.
Sevillano very popular one of Nerja´s tapas bars
Sevilliano have three restaurants and Tapas bars in Nerja. The most popular Sevillano you will find in the center of the old town with a beautiful roof terrace which serves delicious cocktails the voltz bar.
The owners of all the bars is Wakim, a very pleasant and courteous Spaniard. Wakim was initially a waiter but now runs a thriving restaurant and bar business in Nerja. Whichever bar you chose you will always get a visit from Wakim, who always exchange pleasantries with you, hence his success.
In all three Sevillanos, you will find a nice ambiance, nice staff and a good selection of Nerja´s tapas. All the Sevillanos tapas bars are worth visiting. You will not be disappointed with the quality of Tapas in any of these establishments. The restaurants are worth a visit too because of their great Spanish cuisine. All in one a good choice for tapas and food.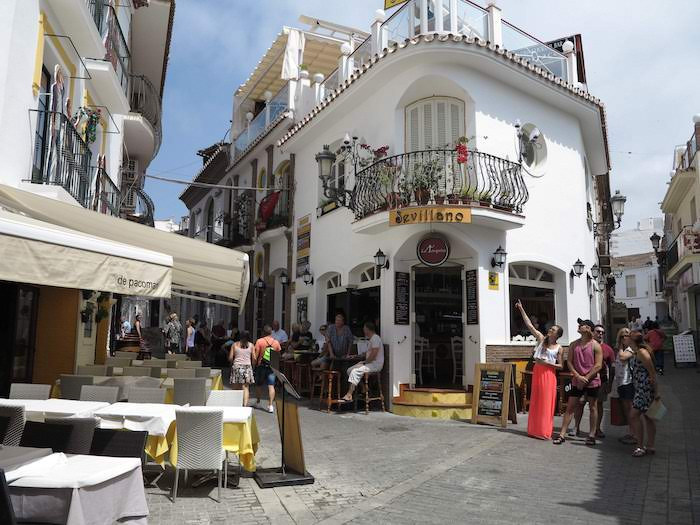 Redondo known also as the round bar
This tapas bar has a large selection of different types of tapas? It is located in the old town of Nerja. A good stop after your shopping tour, as it is placed at the end of the shopping street Calle Almirante Ferrandiz, known locally as Post office street.
La Puntilla our favorite Tapas bar in Nerja
La Puntilla is another one of our favourite tapas bar. It is a very popular Nerja tapas bar. This is hardly surprising as the tapas are truly excellent. The staff in La Puntilla are amazing and this is probably why its our favourite one of all the Nerja´s tapas bars
The speciality is fish, of which there is plenty, and there are several variates to choose from. They also serve chorizo and pork fillets (filletillos). Prawns pill pill is also served as a tapa, I believe one of the only places in Nerja´s tapas bars that serve it…delicious.
It is also a restaurant, so full meals are available and there is a small street terrace in summer. No tapas on the terrace, though, only inside. This is the custom in Tapas bars in Nerja
Bar Dolores EL Chispa
This is an amazing bar and restaurant – great food, friendly service, and very reasonable priced. Bar Dolores (El Chispa) is authentically Spanish. The patrons are often locals.
You cannot pick your free tapas, but most importantly all the tapas are delicious. The added bonus is seeing them grilling fish and roasting vegetables right outside next to the dining area – that creates a sort of an outdoor barbecue vibe. They serve fresh fish, more seafood, several veggies, pork skewer (great for kids) Everything is excellent – fresh, very tasty, and seasoned just right with delicious sides.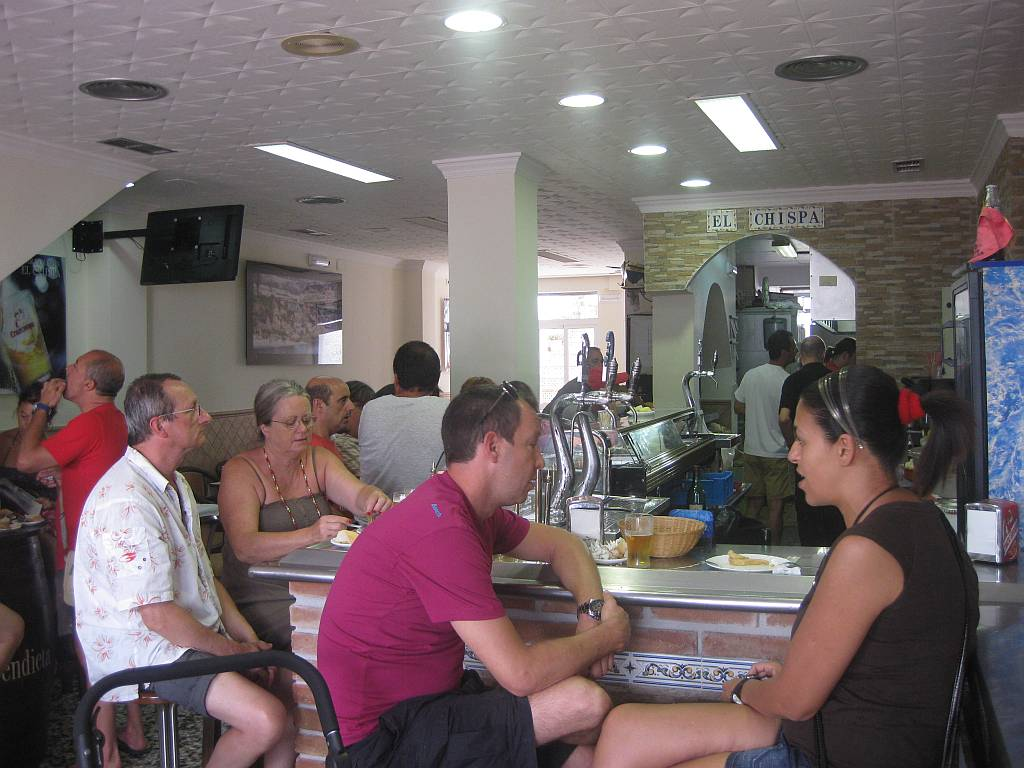 Rincon de Sabor
Rincón del Sabor is on calle Ruperto Anduez near the junction with calle San José, quite near to the Parador Hotel in Nerja old town. Here they serve delicious tapas
It is a very friendly, spacious bar with a nice enclosed terrace. There is a wide range of free tapas available with your drinks, but you can only have tapas whilst seated at the bar. Most importantly when seated at the tables they serve a wide range of food and a lovely paella, one of the best in town. They also do a very reasonable Menu del Dia, which is certainly a reasonable price.
Bar Turry another one of the free Tapas bars in Nerja
This is one of the best tapas bars in Nerja. Ana and colleagues produce wonderful food time after time, such a choice , cooked to perfection , wouldn't be out of place in some fine Madrid restaurant. Bar turry is located in Plaza la Marina, or the back door is on Calle de Chaparil. Several of the local bars in this area serve free tapas
La Rienda another free Tapas bar in Calle El Chaparil
La Rienda is located on calle Chaparil, next door to the Hotel Jimesol. The interior is quite spacious and there is a street terrace with barrel tables. You will find here, most importantly, excellent free tapas with your drinks. It is a very popular tapas bar so it is most important to get there early, to avoid disapointment.
Los Pescaitos Calle Chaparil
Los Pescaitos is a smallish tapas bar on calle Chaparil, opposite Plaza Tuti Frutti. This is one of our favourite free Tapas bars. We have spent many a happy hour at the small hatch with a couple of stools on the street. It may not look much from the outside, but appearances can be deceptive. It is under new management now as our amigo Rafa, has retired. The new owners are very friendly and most importantly the tapas (normaly pescado) is equaly as nice as normal.
As the name of the bar, Los Pescaitos, suggests, the tapas are mainly fishy. There are however, although the odd meat dishes available.
1 bedroom and all rental properties in Nerja
3 bedroom rental properties Nerja
4 and 5 bedroom rental properties in Nerja