Verde Mar Nerja front line overlooking the ocean
Verde Mar Apartments Nerja:
Verde Mar Nerja, a lovely modern and well maintained, front line apartment block (edificio), that overlooks and has fantastic views of the ocean. That is to say the apartments Verde Mar compare with any other apartments on the Costa Del Sol
Apartments:
Two bedroom apartments:
One Bedroom Apartment:
The Edificio consists of one and two bedroom lovely apartments furthermore most of them have fantastic views of the ocean
These front line apartments are located at the end of Prolongación Hernan de Carabeo at the junction with Calle Rodriguez Acosta, a generally quiet area but handy for all amenities and lovely restaurants. Most importantly the apartment's have privileged views from their balconies to the Mediterranean Sea and the secluded cove. Also the Carabeo Beach, is just a stone's throw away.
Above all there is a beautiful communal swimming pool in Verde Mar Nerja and furthermore plenty of nearby free parking in the street. The parking however is at a premium during the very busy summer months.
You literally step out of the Verde Mar Nerja, walk across the the street and down some steps (steep steps) to the Carabeillo beach. This beach is literally just a stone throw away these front line apartments.
Burriana Beach: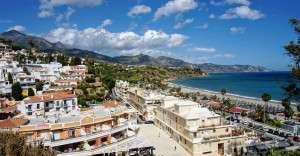 Above all the center of town, the Balcón de Europa, is a mere five to ten minute walk from the apartments along one of the most popular streets in Nerja, Hernan de Carabeo, known locally as the Carabeo.
Most importantly JJ Nerja rentals have several lovely properties for rent in the Verde Mar apartment block as follows: